Granted, there aren't all that many reasons to be cheerful, looking back at the mess the world made of 2014.¹ But on a personal level, it's been pretty stellar. The year has built and built like an over-extended Zarathustran overture. I can't guarantee obelisks, but we're definitely leaving the under-developed grunters behind…
Anyway, what have I got to be so happy about?
Heir To The North, the first part of Malessar's Curse, will be released in print and e-formats by Grimbold Books/Kristell Ink in late summer 2015. I may have mentioned that already. I make no apologies for mentioning it again. The cover art looks plenty cool so far, and I'll share it as soon as I'm allowed to!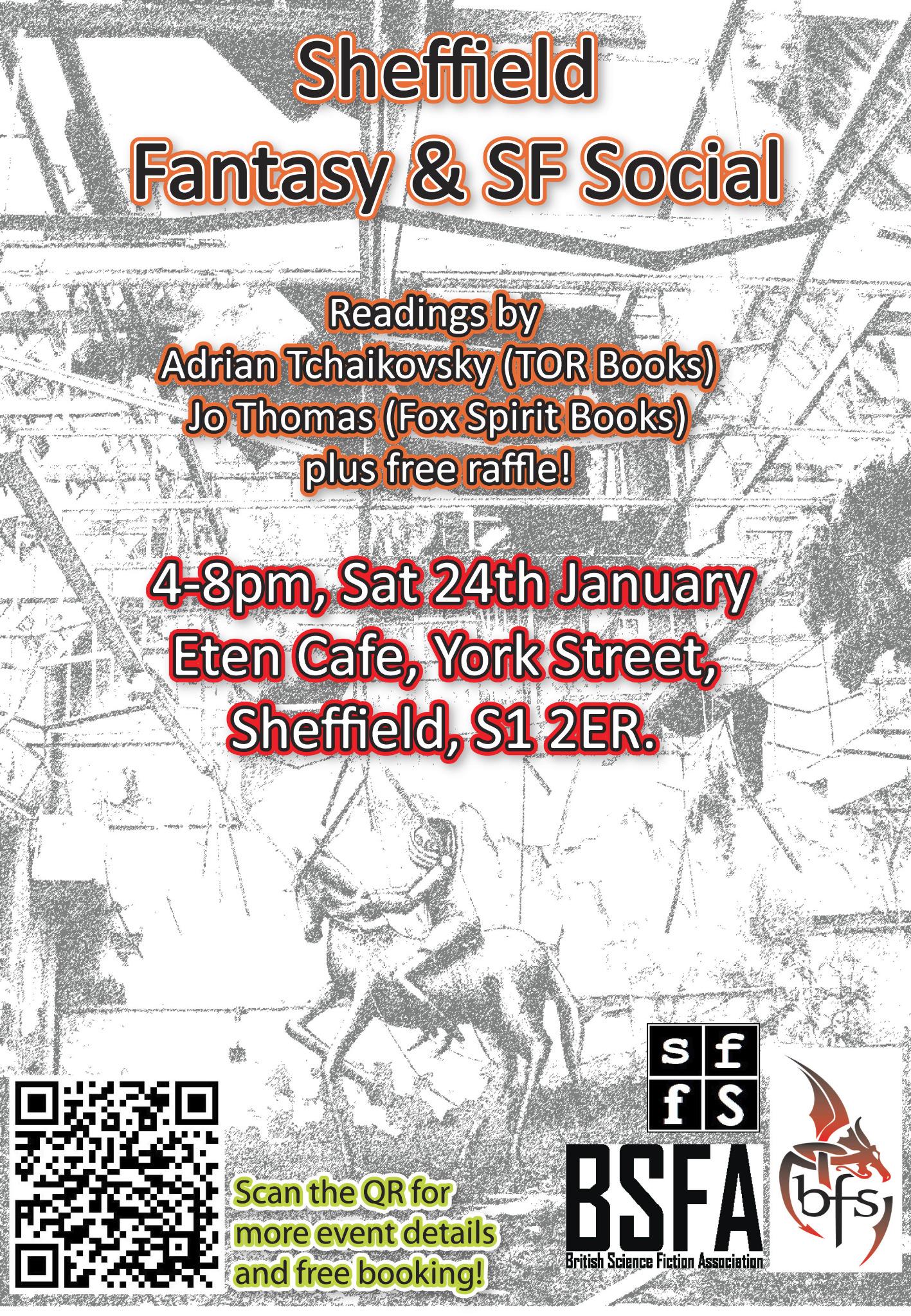 The deal was pretty much done at FantasyCon in York, back in September. That was a brilliant weekend. At the same time, I accidentally became the point man for Sheffield's own variant of the successful Super Relaxed Fantasy Club and York Pubmeets. The first of these SoYo genre afternoons, the SFSF Social – in which there will be readings, and prizes, and all for the grand price of £absolutelynowt – takes place in January. If you're interested – and with guests Jo Thomas and Adrian Tchaikovsky, why wouldn't you be? – click this way and see the details. There's been a bit of a dearth of this kind of thing in Sheffield, despite the city being home to the annual Off The Shelf literary festival, so we'd like this to become something of a regular fixture.
Empire Dance 4: The Packard Defence came out on or around May 4th, and while it didn't set the world alight (and nor did I expect it to) it did seem to go down particularly well down in the Antipodes. Thank you all ever so much!
Creatively and businesswise, we've never been in a better place. When Rachel led a macrame workshop at an event organised by Sheffield Museums, the response was staggeringly positive. So much so, in fact, that I had to rope myself in as an emergency backup demonstrator – learning the knots as I went! Now, if you want to include the Social in the numbers, there are three businesses in the house. And that's not counting the day job². Meanwhile, my former employer (and I'll note officially that it's good to see them still trading) wants to give me more money. How can I reasonably refuse?
Stuff I've enjoyed this year? Bear in mind that some of it is probably older than 2014… (and none of these are affiliate links, by the way)
Sebastien de Castell's Greatcoats series started with a fantastic bang in Traitor's Blade. Django Wexler's The Thousand Names, Brian McClellan's Promise of Blood, Ack Ack Macaque by Gareth L Powell, The Art of Forgetting by Joanne Hall, Kameron Hurley's Mirror Empire – all wonderful stuff and highly recommended. The cool Tales of the Nun & Dragon. I'm in the middle of a massive re-read of Kate Elliott's Crown of Stars series, enjoying the depths once more. Alastair Reynolds wrote a fantastic Pertwee-era Doctor Who novel, Harvest of Time, which hits all the right notes while still being far-future epic. Ian Sales – Then Will the Great Ocean Wash Deep Above – a brilliant continuation of the award-winning Apollo Quartet. And holy frack, Paul Cornell's London Falling. It Shit Me Up Bad. Due to time constraints I didn't even get to the parts of the TBR pile I really wanted to (KT Davies, Stella Gemmell, The Expanse, the BFS award winners from this year – and is it wrong that I still haven't read A Dance With Dragons?). I still can't bring myself to finish Thea von Harbou's original novel of Metropolis (prose thicker than gravy). The Demi-Monde started off so well and yet didn't quite do it for me.
So what's coming up? What does 2015 hold aside from the publication of Heir To The North? (yep, I said it again…)
High King's Vengeance will be following on HTTN's heels. Not immediately, obviously, but fear not – it will come…
Short story fans will love 2015. Fox Spirit Books will be publishing That Sinking Feeling, Junior Twilight Stock Replacer, Take Me With You, and Full Compliance across their  expanding range of Fox Pockets anthologies. Two more stories are out at different markets.
With three completed Johnny Silver stories, and two more at the plotting stage, Silverdale's last best hope for peace and the star of Full Compliance will strike out on his own either at the end of the year or in 2016.
There's another novel project. This one, Project:TFL, is coming together at a rate of knots. That's an intentional pun. I've been locked up for worse. Without spoilering the plot, I think it's safe to say that there isn't another fantasy like this on the market (Drayton). I'm rather excited about it. All that remains is to write the blessed thing.
Which means that something has to give: ED5 is slipping back down the list of priorities, but when something as cool as Project:TFL comes along, and there's only so many hours in the day, well…
More conventions. I'm already booked for Fantasycon once more – this time in Nottingham – and the Grimbold/Kristell Ink stable will have its very own "holiday home". Excited? Me? OK, yes, definitely. Especially since either Fantasycon or Bristolcon (which I've also booked holiday for!) will probably see the official launch of HTTN. Naturally there will also be EdgeLit in Derby, since the crown of quiz champions held jointly by Roy Gray, Kevin Redfern, Hayley Orgill, Alex Bardy, and myself must be stalwartly defended!
And it's not all about me either. There's no feeling like that of seeing other people – your friends – be successful too. Watching small presses like Fox Spirit, Boo! Books, Grimbold, Tickety-Boo, and people such as the excellent folks who comprise the Inkbots and the active writers on SFF Chronicles all ramp up their careers and gain the credits and successes they all deserve is just as rewarding as putting in all the hard work yourself. This isn't a zero-sum game, after all.³
I look forward to more successes and reading cool stuff by (amongst others!) Laura Lam, Josh Vogt, JB Rockwell, Kate Shaw, Susan Boulton, Wes Chu, Joanne Hall, Joel Cornah, AJ Dalton, Mhairi Simpson, Ian Sales (last of the Quartet!), Jo Zebedee and more….
And with that, I'm off to don the writing mittens and get this thing drafted. Happy New Year, everybody!
¹ We'll relegate being miserable to a footnote, however, as is proper. Miserable even has a postcode – DN17 2LB. Fortunately, Happy postcodes (WR2 5DQ & BH21 3DP, for example) are also available.
² I've never had so many Saturdays and weekends off in my life! Less stress, better pay, more weekends? Turns out redundancy was a step forwards, not back.
³ Zero-sum games have a postcode. Funnily enough, it's the same postcode as Miserable.